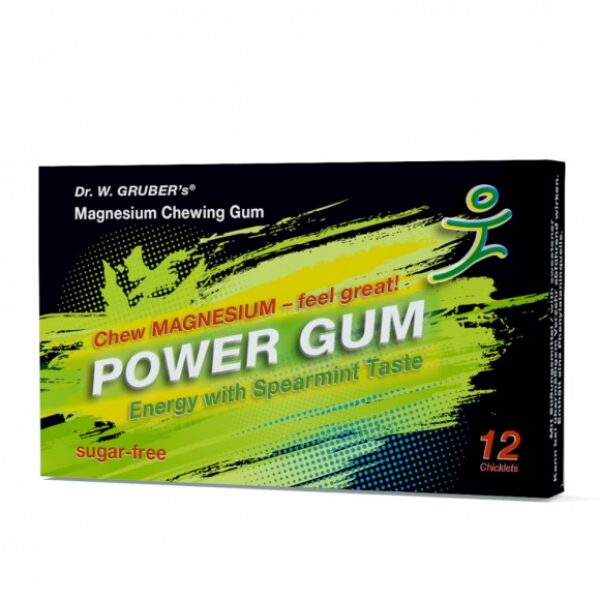 Magnesium Gum for Jaw Clenching
$1,93
Previous lowest price was $2,59.
Sugar free chewing gum with increased bioavailability that relaxes head muscles. Use as needed, up to 12 gums per 24 hours.
Decreases jaw clenching
Decreases eye twitching
Decreases dryness in the mouth
In stock
Description
Four gum pieces contain
120 mg* elemental Magnesium (32 %**). Spearmint flavor. Contains a source of Phenylalanine.
* within the range recommended by rollsafe.org
** % covers the daily requirements in accordance with EU rules regarding the identification of nutritional values.
With this Gum you can be sure to have Magnesium on-the-go; whether at a rave, at work, playing sport, or at training, it's always on hand! A boosting Magnesium supplement that you can chew to your heart's content!
This sugar free gum helps maintain the mineralization of the teeth and neutralizes the acids in the buccal cavity, decreasing dryness in the mouth. The useful Magnesium present in this gum is responsible for the normal functioning of energy metabolism, supports the nervous system and also protein synthesis. Normal muscle function and normal psychic functions* can be attributed to Magnesium and it is involved with maintaining the bones and teeth through Calcium metabolism. It even provides the positive effect of reducing levels of fatigue and tiredness.
This product has a high bioavailability and is suitable for both Vegetarians and Vegans. Specific manufacturing technique, coupled with fine ingredients and permanent quality control standards, assures a consistently high level of quality throughout all of our products.
---
Nutritional supplements are not meant to replace a regulated and balanced diet, but are designed to aid nutrition for a healthy way of life. Do not exceed the daily recommended dosage. Keep away from children and animals. Store in cool (59-77 °F), dry place. Before using supplements such as orthomolecular medicines, advice should be sought from a physician or pharmacist who is well-informed about orthomolecular treatments. Information provided here is not intended to give or represent a medical diagnosis or treatment plan. Medical questions sent via e-mail cannot be answered.
App and support available
Amber glass for corrosives
Designed to last you years
We refund unused test kits
5% of profits goes to PAH